Tyler Perrys Meet the Browns
Theatrical Release:
March 21, 2008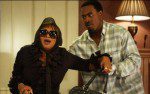 Synopsis
In this story about love and family, Bassett will play Brenda, a single mother living in inner-city Chicago who takes her family to Georgia for the funeral of her father, whom she never met. There, she is introduced to the Browns, her father's fun-loving, crass Southern clan. Brenda also finds romance along the way. The story is adapted by Perry from his stage play "Meet the Browns." Perry will portray Madea and Uncle Joe in the film.
Dove Review
Tyler Perry always seems to tell a story that many families can relate to in today's society. This one deals with a single mom of three who is having a hard time making ends meet; she is about to lose her job, the electricity is shut off and she doesn't have enough money for food. When life seems to be at its worst, a letter comes regarding the passing of her father whom she has never met. This leads for a change for her and the rest of the family as they get out of Chicago to a small town in Georgia.
Filled with some important messages and some lessons for life, this story can entertain and make you laugh. Unfortunately, the language takes this film outside of Dove's standards for wholesome family entertainment.
Content Description
Language:
Several uses of OMG (some reverently at the funeral); Woman swears at bus driver in Spanish; GD-1;H-2; A-3; F-1.5; Wh*re-5; Pimp-5; D-2; S-1; B-2