Run Fat Boy Run
Theatrical Release:
March 28, 2008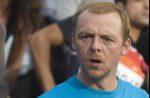 Synopsis
Five years ago Dennis (Pegg) was at the altar about to marry Libby (Newton), his pregnant fiancée. He got cold feet and ran for the hills and he's been going in circles ever since. When Dennis discovers Libby's hooked up with high-flying-go-getter Whit (Azaria), he realizes it's now or never. He enters a marathon to show he's more than a quitter but then finds out just how much sweat, strain and tears it takes to run for 26 miles. Nobody gives him a chance but Dennis knows this is his only hope to more than a running joke.
Dove Review
"Run Fatboy Run" is a cute, quirky comedy starring Simon Pegg of "Shaun of the Dead" and "Hot Fuzz." Pegg plays Dennis Doyle, and the film opens on his ill-fated wedding day. In a panic, Dennis runs away from Libby, his pregnant bride-to-be, leaving her alone at the altar. Several years later, Dennis discovers that a well-off, successful, handsome marathon runner is courting Libby and competing for the affections of his young son. He decides to run a marathon, in the hopes that his efforts will impress Libby, whom he still loves.
What starts out as an effort to win his family back becomes something more, as Dennis takes a long, hard look at the mistakes he has made, and realizes that he needs to have confidence in himself and see something through to the end. It did provide some laugh-out-loud moments. Unfortunately, due to the accumulation of objectionable content, Dove cannot award our Seal to this film for family viewing.
Info
Writer:
Michael Ian Black and Simon Pegg
Reviewer:
Samantha Vandersloot