Zorro Return to the Future
DVD Release:
April 1, 2008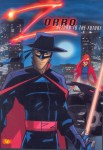 Synopsis
This is Zorro for the new millennium! Diego de la Vega is a modern day young man entering his first year of college. A descendant of Zorros past, he has reason to once again pick up the mantle when his birth city grows increasingly corrupt. Being a Zorro of modern-day means he fights crime with hi-tech gadgets and a new type of horsepower – a motorcycle called the Tornado-Z. Ride along with Zorro and his crime-fighting friends, including a fellow freshman named The Scarlet Whip. Join this historic legend with his new
powers, high-tech gadgets, and vehicles of the modern-day superhero as the all-new EI Zorro rides again!
Dove Review
This is an updated version of the classic "ZORRO". In this modern day animated cartoon, Zorro rides a motorcycle and drives a sports car when he is fighting against evil. He has a sidekick named Bernardo. Zorro is actually a college kid named Diego. He has another college girl Scarlet Whip who also helps him fight evil. His sword is an electronic zapper. This is a story of good battling evil. It also shows that good usually wins. This DVD receives the Dove Seal.