The Mouse that Roared
DVD Release:
March 1, 2008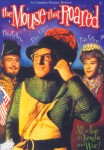 Synopsis
In this classic satire, the Duchess (Peter Sellers) and the Prime Minister (Peter Sellers) of the tiny Duchy of Grand Fenwick have come up with a brilliant plan to keep their country from going broke – make war on the United States, lose, then collect lots of American post-war aid. Their only mistake is not telling their invasion force leader (Sellers, again in chain mail) that he's suppose to lose. Sellers lands in New York City durning an air raid drill and finds the streets empty. He then proceeds to capture a brilliant scientist, his assistant, and his awesome new weapon. The U.S. is forced to surrender! Grand Fenwick then forms the League pof Little Nations which presents the big nations with its terms – PEACE FOREVER.
Dove Review
Peter Sellers plays multiple parts in this off beat 1959 comedy which in its time made fun of the Cold War. With its British humor, some may find this film a little boring and not understand the dry humor that is used. Anyone that is a Peter Sellers fan will enjoy its satire and all the underlying tones of this type of movie. This movie was created in a different era when movies were made for entertainment and were not as offensive as some. This film is awarded the Dove "Family-Approved" Seal.
Info
Company:
Sony Pictures Home Entertainment
Producer:
Carl Foreman; Jon Penington; Walter Shenson
Starring:
Jean Seberg; Peter Sellers; David Kossoff; William Hartnell