Lost Horizon
DVD Release:
March 1, 2008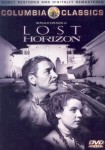 Synopsis
Ronald Colman and Jane Wyatt star in this lavishly-produced classic about the enchanted paradise of Shangri-La where time stands still. After nearly 50 years, Frank Capra's timeless masterpiece, LOST HORIZON (based on the best-selling novel by James Hilton) was restored to its original length of 132 minutes in 1986. The film, which was widely circulated among the armed services during World War II, was cut 22 minutes after its initial release in 1937 to reflect the wartime perception of the Chinese and to tone down the film's pacifism. Film historian Robert Gitt conducted nearly 13 years of detective work tracking down the lost footage. With extraordinary art direction, the set of Shangri-La is considered the largest ever built in Hollywood, winning designer Stephan Goosson an Academy Award® (LOST HORIZON won two 1937 Academy Awards®: Art Direction-Set Design and Film Editing). Furthermore, the budget for the picture was staggering and cost almost four times the amount of any Columbia film at the time; an equivalent cost of approximately $30-$40 million today. A box office blockbuster, LOST HORIZON is considered an exception among Capra's work for its deviation from his usual upbeat "American" theme and continues to capture the imagination of the viewing public today.
Dove Review
This is an old black and white film with a story which still touches human beings. It is about a plane and five people who leave Bascule to go to Singapore and they end up in a mountain range in Tibet. Their plane crashes and they are rescued and taken to Shangri-La. This fictitious paradise includes no poor people, no crime and they barely age.
Three people from the plane crash decide to stay in paradise. The people live happily here, and they avoid any excesses in their lives, live very simply and peacefully. The movie gives the impression that is how we should live today as in slow, simple and peaceful. We award our Dove "Family-Approved" Seal to this picture.
Content Description
Nudity:
A woman is in the water and clothes are on the bank of the water, but you do not see her nude. Bare bottoms of little kids running in the water to swim are seen.
Info
Company:
Sony Pictures Home Entertainment
Writer:
Sidney Buchman; Robert Riskin
Director:
Frank Capra; C. C. Coleman, Jr.
Starring:
Margo; Thomas Mitchell; Sam Jaffe; Jane Wyatt; John Howard; Ronald Colman; Edward Everett Horton