Cover Girl
DVD Release:
March 1, 2008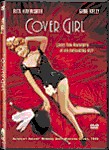 Synopsis
Rusty Parker, a red-headed leggy dancer at Danny McGuire's Night Club in Brooklyn, wants to be a successful Broadway star. She enters a contest to be a 'Cover Girl' as a stepping-stone in her career.She reminds the publisher, John Coudair, of his lost love, showgirl Maribelle Hicks. He was engaged to Maribelle, although his wealthy society mother made fun of her. Maribelle left John at the altar when she saw the piano at her wedding. It reminded her of the piano-player she truly loved. Rusty is Maribelle's granddaughter and there are lovely musical sequences where the radiant Rita Hayworth dresses and dances to songs from the beginning of the 20th century in relating their shared past history. Rusty lands on the cover of her grandmother's former fiancé's magazine (as a bride). She is pursued by Coudair's pal, the wealthy theatrical producer, Noel Wheaton (Lee Bowman). He produces a lavish musical to star Rusty, surrounded by real cover girls of the mid 1940s. Rita's glowing, never more gorgeous as she runs down a huge spiral into the arms of dozens of men who seem clumsy next to her ethereal dancing. But her success threatens Danny McGuire, played by an energetic Gene Kelly. He expressed his distress that his girlfriend will find success without him in Kelly's famous dance with himself, 'Alter Ego'. He and his sidekick, the underrated Phil Silvers (who has great lines with the incomparable Eve Arden), leave New York and entertain soldiers fighting in World War II. Rusty agrees to marry Noel, dazzled by success, security, and his power and money. But she drinks and loses weight because her heart belongs to Danny. She receives a symbolic pearl with great power and tells Coudair and Wheaton that she must spend her life with the man she loves.
Dove Review
I have always been a lover of classic movies of the 40s, especially when they are musicals. Movies of that era were filled with great costumes and trends of the times. "Cover Girl" brings comedy, music, and romance to the screen without using obscene language or inappropriate dress. Plus the great choreography of dancing is an added attraction. If you enjoy this type of classic film, "Cover Girl" is one to see.
The star line-up will have you laughing along with tapping your toes from time to time. This is a true classic that exhibited some "ahead of its time" technology using one person to perform as two. Dove gladly awards the Dove "Family-Approved" Seal to this film.
Info
Company:
Sony Pictures Home Entertainment
Writer:
Marion Parsonnet; Paul Gangelin
Starring:
Gene Kelly; Rita Hayworth; Eve Arden; Lee Bowman; Phil Silvers; Otto Kruger