The Adventures of Walker and Ping Ping: The Great Wall
DVD Release:
March 1, 2008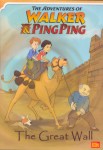 Synopsis
Meet the fearless and curious Walker and his precocious pup Jack as they explore a new home in China and bump into best-friend-to-be Ping Ping in the debut episode of this exciting new adventures-learning series.
In this adventure, Walker meets wordly wise Grandpa Josss for the first time, and the group sets out to collect three symbols from the Great Wall of China. While learning neat stuff about this ancient and imposing barrier, the group runs into a Silk Road merchant selling wares from the back of his trusty camel, as well as an imposing guard of the Great Wall.
Fun for kids and parents alike, The Adventures of Walker and Ping Ping will take you exploring through the far reaches of China and bring a new culture and language closer to home.
Dove Review
"The Adventures of Walker and Ping Ping: The Great Wall", is the first episode in this series. Although the cartoon is basic in its drawing, the incredible amount of information captures your attention right from the start. This DVD provides a wonderful introduction to the country of China with a concentration on its geography. Walker meets Ping Ping in this episode and their adventures begin as they take a magical trip to the Great Wall of China. A bit of the Chinese belief system is revealed as an enchanted flute is used as well as the shaking of chopsticks to reveal fortunes. Not only is this DVD fact filled, it immediately begins to teach the Chinese language. Basic words and phrases are repeated and written out in both Chinese characters and the English alphabet. A fabulous teaching tool and a wonderful DVD, Dove happily awards "The Adventures of Walker and Ping Ping: The Great Wall" the "Dove Family-Approved Seal".