Adventures of Walker and Ping Ping: The Chinese Market
DVD Release:
March 1, 2008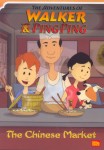 Synopsis
A quick shake of the joss sticks and our heroes Walker and Ping Ping are off on another exciting adventure. In this episode, our favorite group of explorers visits the busy alleyways of a Chinese street market.
Grandpa Joss meets up with his old friends mr. Li and Mr. Shen, as Walker and Ping Ping learn the art of making Chinese dumplings and writing calligraphy, before marveling over the sounds and brilliant colors of the theater of the lantern shadows. This adventure is sure to inspire many fun projects around the house.
Fun for kids and parents alike, The Adventures of Walker and Ping PIng will take you exploring through the far reaches of China and bring a new culture and language closer to home.
Dove Review
This highly educational DVD is a wonderful introduction to Chinese culture, language, beliefs and more. The main characters go on an adventure to a Chinese market where they learn about the art of calligraphy, Chinese musical instruments, Chinese dumplings and shadow puppets. Along with the wonderful facts about China, the language is introduced throughout the entire DVD. Not only are new words heard, but they are also displayed in Chinese characters as well as the English alphabet.
Although the cartoon is basic in its creation, it immediately captures your attention and keeps you wanting to learn more. Traditional Chinese beliefs are displayed through chopping bad luck out of vegetables, talking about a Spirit of Wealth, and shaking chopsticks to tell a fortune. "The Adventures of Walker and Ping Ping: The Chinese Market" is full of color, information and fun and is happily awarded the "Dove Family-Approved Seal".