Leatherheads
Theatrical Release:
April 4, 2008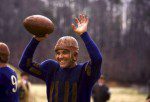 Synopsis
George Clooney plays Dodge Connolly, a charming, brash football hero who is determined to guide his team from bar brawls to packed stadiums. But after the players lose their sponsor and the entire league faces certain collapse, Dodge convinces a college football star to join his ragtag ranks. The captain hopes his latest move will help the struggling sport finally capture the country's attention.
Welcome to the team Carter Rutherford (John Krasinski), America's favorite son. A golden-boy war hero who single-handedly forced multiple German soldiers to surrender in WWI, Carter has dashing good looks and unparalleled speed on the field. This new champ is almost too good to be true, and Lexie Littleton (Zellweger) aims to prove that's the case.
A cub journalist playing in the big leagues, Lexie is a spitfire newswoman who suspects there are holes in Carter's war story. But while she digs, the two teammates start to become serious off-field rivals for her fickle affections.
Dove Review
It's the 1920s all over again! This film does a good job in capturing the feel of this period known as the "Roaring Twenties". Several songs from this decade are included and what a delight to eye the old cars which Henry Ford used to produce. In addition to the realistic look and sound of the film, Clooney and Zellweger play their respective roles well. Clooney is the brash football hero with charm and Zellweger is the city reporter who relies on her intelligence and instinct to get the story no other reporter can capture.
Clooney as Dodge Connolly and Zellweger as Lexie Littleton clash a bit, but the sparks are there. However, when Lexie begins to be seen a lot with college football hero Carter Rutherford (John Krasinski) the question becomes whether or not she will be able to expose him as a fraudulent war hero, or if her genuine fondness of him will stop the headlines cold.
The story is interesting enough, as Connolly gathers up his old Duluth team and Rutherford to play football. People are willing to pay to see Rutherford's talent and the money pours in. There are some funny moments too, including a scene in which a new high school recruit punts the ball but hits his teammate square in his back pockets! Unfortunately, the film is saturated with strong language including several biblical profanities. In one scene several reporters sitting next to a broadcaster keep slipping and their profanities go over the air and the radio broadcast. Due to the language issues, we are unable to award this movie our Dove "Family-Approved" Seal.
Info
Company:
Universal Pictures
Writer:
Duncan Brantley and Rick Reilly
Reviewer:
Edwin L. Carpenter