The List
DVD Release:
June 10, 2008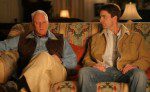 Synopsis
Deception, greed and a deadly lust for power lie at the heart of a sinister organization in this intriguing thriller based on the novel by best-selling author Robert Whitlow. Starring Malcolm McDowell (TV's War and Peace), Chuck Carrington (TV's JAG), Hilarie Burton (TV's One Tree Hill) and Will Patton (A Mighty Heart), The List is a heart-racing tale of suspense and betrayal, in a dark world of blood oaths that bind generations.
Returning home for his father's funeral, Renny Jacobson (Carrington) discovers he's the inheritor of his family's chair in a secret society founded during the Civil War. But Renny suspects there's more to the society's activities than meets the eye, and when his inquiries into the group's true nature are discovered by its corrupt leader (McDowell), Renny becomes the target of a dark and mysterious force with the power to destroy everything — and everyone — he loves.
Dove Review
"The List" is a film about redemption. A group of men welcome aboard a new member, Renny, whose father was a member of the private group and "the list." There is a history and a mystery which surrounds the list and Renny slowly begins to unravel the mystery. There is an evil which he has to fight he never would have dreamed of. Renny learns his mother had prayed for him, and she believed her prayers would be answered after her death. Is there hope for Renny? Can he find happiness with a woman he meets named Jo? The film emphasizes what Renny's mother believed: that both the enemy of man and God's children make the mistake of underestimating the power of prayer. In one scene, the before and after pictures of hardened people who turned to God are shown and the contrast is striking in their appearances.
Although the film is a bit intense for young children, we gladly award our Dove "Faith-Friendly" Seal to this film. The prayers and scripture readings are handled in practical ways in the film and many people will appreciate the spiritual message of the film. Add "The List" to your list of must-see films!
Info
Company:
20th Century Fox Home Ent.
Writer:
Michelle Hoppe and Johnston H. Moore
Reviewer:
Edwin L. Carpenter