The Little Red Truck
Theatrical Release:
July 11, 2008
DVD Release:
July 11, 2008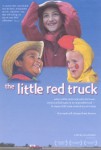 Synopsis
Imagine sixty kids staging a full-scale musical in six days.When a little red truck rolls into town, sixty local children take on an impossible task–to stage a full-scale musical in just six days. This week will change them forever. As they learn lines, cues, songs and choreography, they learn life's important lessons of commitment, confidence, teamwork, trust and acceptance.
Dove Review
What a wonderful documentary about an amazing organization! "The Little Red Truck" follows the Missoula Children's Theatre for a week as various teams enter a wide range of schools and put together a musical in a short, five-day time frame. This documentary is fantastic as it points out a need, shows it being filled and then records the feelings of everyone involved. The movie is very well organized and easy to follow even as it jumps between the various shows. Wonderful interviews are done with not only the founders of the program, but also with the children that are involved and changed through the opportunity.
Because this documentary is "real life" there are some words used like stupid and dang and during one interview a team member recalls one of his little actors telling how he stabbed someone. Although he seems young, one boy even talks about being a former gang member. Don't search for a different movie just because "The Little Red Truck" is a documentary. This top-quality production is informative, exciting and inspirational and is happily awarded the Dove "Family-Approved" Seal!
Info
Company:
Tree And Sky Media Arts