For My Country: The History of the National Guards DVD/CD
DVD Release:
May 20, 2008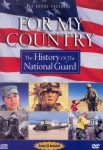 Synopsis
Narrated by legendary music icon Pat Boone, FOR MY COUNTRY takes you on a journey of the rich history of the UNITED STATES NATIONAL GUARD. This moving documentary offers an insider's view of the impact the National Guard has made throughout our history and reaches into the heroic lives of the dedicated men and women who sacrifice to defend the United Sates and its interests at home and all over the globe. This acknowledgment to patriotism culminates with a beautifully filmed and emotionally charged music video tribute by Pat Boone to fallen heroes and the brave soldiers who continue to stand tall for our country.
Dove Review
Being raised in a family where my father was a National Guardsman, this documentary was insightful and touched my emotions several times. Pat Boone narrates the educational history of the National Guards from the start in George Washington's time to the present day.This includes major battles that the brave men and women of the Guards have participated in. Along the with this history, many soldiers and family members tell their personal story or views.
At times the show relates the emotional side of the soldiers and their families stories and feelings. The war scenes are not different then those we see on the news. This is the history and story of our brave men and women of the National Guards that protect us in time of need whether it is a natural disaster or man made. Also included is a music CD of the song from Pat Boone that is a tribute to our Brave fallen soldiers and the proceeds from this production help disabled veterans. I proudly award this documentary the Dove "Family-Approved" Seal.
Info
Company:
Pat Boone Enterprises
Writer:
Narrations written by: Phillip Kassel
Starring:
Men and Women in the Arm Forces