Fishtales
Theatrical Release:
July 11, 2008
DVD Release:
July 15, 2008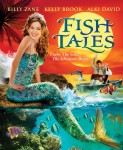 Synopsis
On a Greek Island, widowed Greek-History Professor Thomas Bradley is about to lose his research grant studying the mystery of ancient love but he knows he is close to a major breakthrough. Joined by his 12-year-old daughter, Serena, Thomas looks for the inspiration he needs to finish his thesis. Serena knows that what her father needs most of all is to find love again after the loss of his wife.
Then, Serena meets Nereid, a beautiful mermaid, and decides she is a perfect match for her father. However, the evil Captain Mavros, an island fisherman is intent on harming Nereid and getting his claws on her precious jewel-encrusted tail. Will love conquer all or will the Captain make off with his prize?
Dove Review
Professor Bradley (Billy Zane) of Oxford is allowed to work on a project through the summer and he travels with his daughter in tow to a small house in Greece. There he studies love spells and meets a woman he falls in love with who happens to be a mermaid. There are a few mysteries to unravel in this at-times slow-moving film. The scenery in the film is enjoyable to view and those who love myths and legends would most likely enjoy this film. We award our Dove "Family-Approved" Seal to the movie.
Content Description
Violence:
A bride is caught on fire by fireworks; a man drops statue head on his own lap; a brief fight in a restaurant;
Violence:
A bride is caught on fire by fireworks; a man drops statue head on his own lap; a brief fight in a restaurant;
Nudity:
Cleavage; girl and woman in bathing suit; woman in bathing suit during credits; shirtless men;
Info
Writer:
Alki David and Melissa Painter
Reviewer:
Edwin L. Carpenter