Kidz History: Coming to America
DVD Release:
April 25, 2008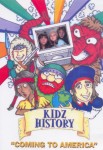 Synopsis
Here's a charming educational film that will delight young children as they see history come to life. When 12 year old Zack zaps 10 year old Kaylee and 7 year old Summer into Kaylee's computer screen, they are whizzed back in time to find out who was the first person to discover America.
Watch their journey unfold as they travel around the world and witness first hand how the Eskimos migrated to America and became Native Americans, what happened when the Vikings arrived in America, Marco Polo's book that changed the world, and Christopher Columbus' persistence as he sailed west to find gold and riches.
Dove Review
Want to take a ride and learn something along the way? Jump on board as the kids do a great job taking you back in history. The actors have great enthusiasm while performing. The art work included in the feature and the time line are something that will keep your children interested.
Take a look at the props and costumes, I think you will be pleased to see that they follow that time in history and are also geared to the child's level of perspective.
The only down side I could see is that there are some mild scenes of violence. Scenes of violence include, Indians using a bow and arrow to kill a Rabbit, Eskimos spearing a Mammoth to eat, Vikings chasing after Native Americans, Vikings fighting each other, Bandits stealing from travelers, and some fighting between kids in the credit section.
Info
Producer:
Holly and Heather De Luca
Industry Rating:
Not Rated
Reviewer:
Dana Langworthy