Thank You Billy Graham
DVD Release:
May 20, 2008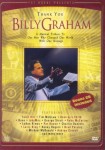 Synopsis
Born on a dairy farm in North Carolina on November 7, 1918, Evangelist Billy Graham has preached to more people in live audiences than anyone else in history. Since his 1949 Los Angeles crusade that vaulted Reverend Graham into the public eye, he has preached the gospel to nearly 215 million people in more than 185 countries and territories, and led hundreds of thousands of individuals to make personal decisions to live for Christ, which is the main thrust of his ministry.
Motion picture actor and recording star Pat Boone, joined by rock artist and Grammy award-winning producer/writer David Pack (Ambrosia) and country star Billy Dean, collaborated to write and record this heartfelt song that chronicles the life and ministry of Reverend Billy Graham.
Dove Review
"THANK YOU BILLY GRAHAM" is a 2-disc set, the first being the actual soundtrack CD of the song of the same name. Disc 2 is broken down into four segments. Segment one is a music video of the song featuring more than 30 famous personalities and music stars. Segment two is "The Inspiration" behind the song. Written originally by Pat Boone and enhanced by the renown David Pack, this is an endeavor to "celebrate the effect Billy Graham as had on society and on the world for the last 50+ years…..If there is a man living today for whom honor is due, Billy Graham is that man" (Pat Boone). Segment three is "Testimonials" and is, in my opinion, the best part of the DVD.
Through such artists and celebrities as Bono, Tim McGraw, Faith Hill, Charlie Daniels, Larry King, Dr Bill and Vonette Bright, Brad Paisley and Kenny Rogers (to name a few) we hear what Billy Graham means to each of them. Bono says, "At a time when religion so often gets in the way of God's work,…I give thanks just for the sanity of Billy Graham". Mark Kibble (of Take 6) says, "It's the person most like Christ that can be most effective and can reach the most people and Billy Graham has done that, crossed so many boundaries and I think that's the way the Love of Christ is". Kenny Rogers Chimes in with, "Don't tell me how to be a Christian, Show me how to be a Christian" and that Billy Graham epitomizes that.
Segment four is "The Making of the Video" and shows the artists and personalities as they sing and speak their portions of the song, culminating in the final soundtrack. This is an amazing tribute to one of this century's greatest ministers. With the photos from the time he was a baby through his growing up and ministry, along with the incredible words of the song, this CD/DVD set is proudly awarded the Dove "Family -Approved" Seal.
Info
Company:
Pat Boone Enterprises