My Old Man
Theatrical Release:
June 7, 2005
DVD Release:
June 7, 2005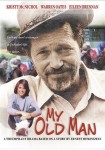 Synopsis
Based on Ernest Hemingway's short story, MY OLD MAN is a heart-wrenching story about luckless horse trainer, Frank Butler (Warren Oates), who is granted a second chance to mend his broken relationship with sixteen-year-old daughter Jo (Kristy McNichol). A compulsive gambler, Frank introduces Jo to the racing circuit, and for once, luck smiles down upon him. Frank wins big at the track and buys Jo a horse with the intention of racing him. When he's injured by the horse right before its debut in a big race, it seems like Frank's luck has prematurely run out, and young Jo is left to saddle the burden of the big race alone.
Dove Review
Warren Oates, the prolific character actor of the 1950s and 1960s appears in this 1979 TV movie, just three years before his untimely death at the age of fifty three. He appeared in the film "True Grit" and made a ton of appearances as a guest star in many television shows.
Oates is excellent in this film as Frank Butler, a man who decides he wants to get acquainted with his sixteen-year-old daughter while there is still time. He was previously divorced from her mother years ago. He's a compulsive gambler who also drinks a lot but his daughter pulls no punches in making him face up to his problems. Kristy McNichol is also very good as Jo, Butler's daughter, as is Eileen Brennan, who plays Marie, a woman who still carries a torch for Frank whom she met years before.
The story is interesting to follow as Frank finds a way to purchase a race horse for his daughter, after she falls in love with the horse and with racing. Unfortunately, there is a sexual relationship between the two adult characters without marriage, and the man moves in with the woman. There is also a scene in which Frank curses someone to Hell, although he later forgives the man for the wrong that was committed towards him. The film does speak of the importance of family relationships. It's unfortunate that we are unable to award our Dove "Family-Approved" Seal to this film.
Info
Company:
Echo Bridge Home Entertainment
Writer:
Ernest Hemingway and Jerome Kass
Reviewer:
Edwin L. Carpenter