The Character Chronicles
DVD Release:
February 1, 2008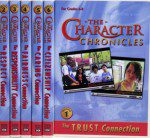 Synopsis
THE CHARACTER CHRONICLES brings character education alive for upper elementary and middle school students. Presented from the point of view of a middle school video blogger, this series explores the Six Pillars of Character (Trustworthiness, Respect, Responsibility, Fairness, Caring, Citizenship) through the thoughts and personal experiences of young people throughout the U.S. The series contains a variety of entertaining and provocative elements including inspiring documentaries, humorous vignettes, and insightful teen discussions about each of the pillars. These compelling chronicles sparkle with a hip, modern, energetic style that young viewers will love to watch.
THE CHARACTER CHRONICLES is intended for grades 4-8. Each program is approximately 25 minutes in length. Programs are available on DVD or VHS, and are close-captioned. Each video includes a facilitator's guide with discussion questions, writing assignments, and other activities designed to enhance the learning experience provided by the program.
Dove Review
This is a six-DVD-set about the things expected of both adults and children in everyday life. It is formatted to reach fourth to sixth graders. In the video the students meet in groups and discuss each topic. These are the following topics: 1. TRUST – Be a person of your word. If you lie be prepared to be ready for the consequences of your actions. 2. RESPECT – The way to earn respect as these students see it. They give examples of what you do to earn respect. 3. RESPONSIBILITY – Adult characteristics. Doing what is expected of you by others. 4. FAIRNESS – Life is not always fair. Try to make each situation a win for everybody. 5. CARING – When all that matters to you is yourself, go a little farther and help people. Stop being so self indulgent and help others. 6. CITIZENSHIP – Learning what you can do for your country or community even though you are under 18.
I found all the student discussions to be very interesting. They share their views and give great examples. The content is wholesome. This series is easily awarded our Dove "Family-Approved" Seal.