Snoopers
DVD Release:
April 1, 2008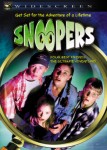 Synopsis
Get set for the adventure of a lifetime when a 'dare' leads four curious kids into a hair-raising investigation. While four friends meet at an old cemetery, they stumble over the grave of a famous magician. Things soon turn spooky as they're haunted by a cloaked stranger and mysterious voices begin erupting from the magician's grave. When they discover a magnificent stolen diamond, the Snoopers embark on a wild chase with non-stop surprises in this fun tale that the whole family will enjoy.
Dove Review
One night Poppy sends a message to each member of the Knickerbacker Gang, telling them to meet at the corner by the cemetery. She is going to prove, once and for all, that she is as daring and brave as the rest of them. Just because she's the youngest, and a girl, doesn't mean she can't be trusted. She plans on cutting through the cemetery, by herself, armed only with a flashlight.
As she slowly makes her way through the blackness the gravestone of a famous magician suddenly lights up, casting eerie shadows and begins to laugh out loud. Poppy turns to run and falls into an open grave, just as a hooded, cloaked figure appears and stands before the lighted gravestone. A conversation takes place between the figure and the mighty magician then the figure disappears into the night. The Knickerbacker Gang comes looking for Poppy and witness it all.
Once Poppy is out of the open grave, the gang begins to snoop into all the funny business going on. And they soon find themselves immersed in intrigue and even more mystery. Set in Europe, this is a delightful family movie and the children are very engaging. We award "Snoopers" our Dove "Family-Approved" Seal and we award it five Doves, our highest rating.
Info
Company:
Echo Bridge Home Entertainment