Deception
Theatrical Release:
April 25, 2008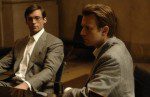 Synopsis
Are you free tonight?"
A simple enough question, but how Jonathan McQuarry (EWAN McGREGOR) answers it will change his life forever. A corporate auditor adrift in a sea of New York's power elite, Jonathan's work is his entire life.
But a chance meeting with Wyatt Bose (HUGH JACKMAN), a charismatic corporate lawyer, introduces Jonathan to a decadent playground for Manhattan's executive upper crust. For these power brokers, whose eighteen-hour workdays leave no time for a personal life, there's "The List" – a sex club, of sorts,
where the right cell-phone number and four simple words ("Are you free tonight?") can lead to an evening's sexual fulfillment.
It's a world of "intimacy without intricacy," as Jonathan's first conquest (or vice versa) explains to him, and through The List Jonathan discovers a side of himself that he didn't know existed. But an affair with a
ravishing and mysterious stranger known to Jonathan only by her first initial 'S' (MICHELLE WILLIAMS), will expose him to yet another world he never imagined – one of betrayal, treachery and murder.
Dove Review
I was really surprised after screening this film that it is rated R. I think it should be rated NC-17. There is a trend recently in Hollywood that if a film is rated PG-13, that its content is a high-end PG-13, actually allowing material that used to be considered belonging to an R-rated movie. The R-rated films now are high-end R-rated films, containing very strong material. There are a few graphic sexual scenes and nudity in this film. A family-friendly film it is certainly not.
When Wyatt Bose (Hugh Jackman) meets Jonathan McQuarry (Ewan McGregor) he introduces him to a sex club in which prostitutes call his cell phone asking, "Are you free tonight?" They then meet in a hotel for a session, and sometimes McQuarry calls them, asking the same question.
When McQuarry falls for one of the prostitutes, she winds up disappearing from their room when he steps out to the ice machine, and he ends up with a knot on his head, having been konked from behind. This sets up a mystery with McQuarry learning there is much more to his buddy Wyatt than he first realized.
The film also contains a scene in which two characters get high on marijuana. Due to the language, sex and nudity content, in addition to the drug content, we are unable to award our Dove "Family-Approved" Seal to this movie.
Info
Company:
20th Century Fox
Reviewer:
Edwin L. Carpenter