Baby Mama
Theatrical Release:
April 25, 2008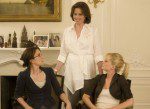 Synopsis
Successful and single businesswoman Kate Holbrook (Tina Fey) has long put her career ahead of a personal life. Now 37, she's finally determined to have a kid on her own. But her plan is thrown a curve ball after she discovers she has only a million-to-one chance of getting pregnant. Undaunted, the driven Kate allows South Philly working girl Angie Ostrowiski (Amy Poehler) to become her unlikely surrogate. Simple enough…
After learning from the steely head (Sigourney Weaver) of their surrogacy center that Angie is pregnant, Kate goes into precision nesting mode: reading childcare books, baby-proofing the apartment and researching top pre-schools. But the executive's well-organized strategy is turned upside down when her Baby Mama shows up at her doorstep with no place to live.
An unstoppable force meets an immovable object as structured Kate tries to turn vibrant Angie into the perfect expectant mom. In a comic battle of wills, they will struggle their way through preparation for the baby's arrival. And in the middle of this tug-of-war, they'll discover two kinds of family: the one you're born to and the one you make.
Dove Review
Tina Fey has come a long way from her start in "Saturday Night Live". This comedian, writer, producer, actor and mother must be fabulous at multi-tasking. In "Baby Mama" she plays an overachieving business woman who has spent all her time on her career and now her biological clock is ticking away, causing her to want to have a child. She follows all the mainstream methods and artificial insemination but she is diagnosed with a one in a million shot at conceiving a child. She then tries to adopt but the wait is too long, so she turns to surrogates and this is where the fun begins. Angie (played by Fey's real life good friend Amy Poehler) really gets the laughs going when she can't swallow a prenatal vitamin the size of a golf ball. This scene is very funny and according to a recent Readers Digest article was "improvised a fair amount".
For a PG-13 film "Baby Mama" is pretty tame from a foul language point of view. Where it miscarries in birthing a family film is in the sex and drug areas. An out of wedlock pregnancy eliminates this film from receiving The Dove Seal. It is too bad because there are many funny moments and Steve Martin fits well as Kate's boss, a world traveling naturalist businessman. We just wish the sex content had been toned down for families.
Content Description
Sex:
Sexual relationship between unmarried couple results in pregnancy. Dialog like "b*ng your friends"; "You don't have to be married to have a kid"; suggestive dancing in one scene.
Language:
G/OMG-12; "F-ing around on me"(spoken exactly as written didn't say entire word); D-3; A-1; B-2; Slang words for both male and female genitals-6
Info
Company:
Universal Pictures