Harold and Kumar Escape from Guantanamo Bay
Theatrical Release:
April 25, 2008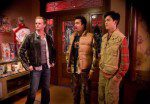 Synopsis
Harold and Kumar Escape From Guantanamo" marks the triumphant return of these two hilarious, slacker anti-heroes. The movie stars John Cho as Harold and Kal Penn as Kumar, two stoners who can't seem to get a break. Their last adventure found them traveling across country to find a White Castle hamburger in order to satisfy a weed-induced case of "the munchies."
This time, the boys get themselves in trouble trying to sneak a bong onboard a flight to Amsterdam. Now, being suspected of terrorism, they are forced to run from the law and try to find a way to prove their innocence. What follows is an irreverent and epic journey of deep thoughts, deeper inhaling and a wild trip around the world that is as "un-PC" as it gets.
Dove Review
After being mistaken for terrorists, best friends Harold and Kumar get sent to the notorious prison at Guantanamo Bay, Cuba. Then, as the title indicates, they escape. The rest of the movie revolves around their efforts to get their names cleared, and the many so-called adventures they have along the way.
Most of Harold and Kumar's escapades involve sex, drugs, nudity, or some combination of the three. There is not one scene in this movie that is free of foul language; even most of the soundtrack is full of objectionable lyrics. Bathroom humor and racial jokes round out the package. When Harold and Kumar end up at President Bush's Texas ranch, the President takes them into his private room, which is decorated with posters of pinup girls, and they all smoke marijuana. Few movies are as far from receiving the Dove "Family-Approved" Seal as "Harold and Kumar Escape from Guantanamo Bay."
Info
Writer:
Jon Hurwitz and Hayden Schlossberg
Director:
Jon Hurwitz and Hayden Schlossberg
Reviewer:
Samantha Vandersloot