Final Approach
DVD Release:
April 29, 2008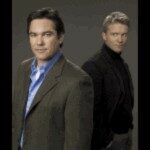 Synopsis
Former FBI hostage rescue specialist Jack Bender's (Dean Cain, "Las Vegas") unique skills are challenged when he finds himself aboard a domestic flight hijacked by Greg Gilliad (Anthony Michael Hall, "The Dead Zone"), member of a radical organization called the People's Separatist Movement. Gilliad wants their jailed leader freed, or he will begin killing passengers. On the ground, Jack's ex-wife, Alicia (Lea Thompson, "Jane Doe"), an FAA employee, along with Jack's old FBI and ATF colleagues, discovers that the terrorists motives are tied to visions of nuclear grandeur, and there may be only way to stop them—by blowing the airliner out of the sky. Ernie Hudson, Sunny Mabrey, William Forsythe and Tracey Gold also star in "Final Approach," premiering Saturday, May 24 (9-11p.m.).
Dove Review
This highly intense movie starts out with FBI and ATF officers raiding a cult under the direction of cult leader Silas Jansen. It then moves on to two years later and the same followers of Jansen build a bomb, kidnap two bank official's wives and hijack a plane. They attribute it to corrupt American government and an oppressive society.
It becomes very clear that the hijackers are doing it for monetary gain and it has nothing to do with Silas Jansen and the promoting of the cult. They kill innocent people and terrorize a whole plane load of passengers. By the end of the movie these issues are all resolved. This movie is awarded the Dove "Family-Approved" Seal.
Info
Company:
Hallmark Channel