Dragon Tales Vol. 16: Amazing Pets
DVD Release:
March 17, 2009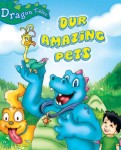 Synopsis
Join Emmy, Max and all their Dragon Land pals for 5, fun and educational episodes that teach children the importance of caring for their special pet friends. Whether an orange furball, a leaping frog, a baby rhyming bird or a fuzzy pet caterpoozle, Dragon Land is full of many unique animals – each of which has its own set of special needs to discover! Also includes a fun Dragon Tales song which parents and kids can enjoy singing together!
Dove Review
Once again, Max and Emmy join their lovable dragon friends in Dragon Land for five more adventures on this DVD. The main theme in this group of episodes is responsibility. Max and Emmy learn about caring for pets and plants, leaving wild animals in the wild, losing pets, and helping their animal friends. Even though they are cartoons, Max and Emmy are great examples to little kids as they usually treat each other with kindness and respect and are willing to learn new things.
Dragon Land is a somewhat magical place and the kids must wish on a dragon scale to get there. These episodes are clean, entertaining and trustworthy. "Dragon Tales Volume 16" easily earns the Dove "Family-Approved" Seal, but be careful…you may just find yourself wishing you had a magic dragon scale!!
Info
Company:
Sony Pictures Home Entertainment
Industry Rating:
Not Rated