The Infinite Worlds of H.G. Wells
DVD Release:
February 8, 2005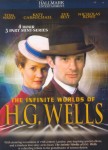 Synopsis
On a night in London in 1846, newspaper reporter Ellen McGillivray arrives at the home of legendary literary figure, Herbert George Wells. Expecting to hear of the events and people who formed his prophetic imagination, she is informed of a world in which known scientific boundaries no longer exist.
It begins a half century earlier at London's Imperial College of Science where Wells meets Jane Robbins, a scientist equally fascinated by unnatural phenomenon, and a woman who immediately captures Wells' heart. Through midnight experiments and secret investigations into the paranormal, through the follies of chance and the miracles of fate, Wells and Robbins find themselves slipping into whirlpools of time, both past and present, they never thought possible. Since this mysterious universe cannot be shared with the world, this becomes a wondrous secret that binds them forever.
With stunning recreations of 19th century London, awe inspiring special effects, and a timeless love story at its heart, THE INFINITE WORLDS OF H.G. WELLS is Hallmark Entertainment's dazzling tribute to the grandmaster of science-fiction.
Dove Review
This fascinating movie is a sort of biography of the mind of H.G. Wells, the science fiction writer. It is unique in that the bizarre, science fiction mysteries of the movie (which resemble Wells' writings) are presented as realistic events that influenced him. This lengthy movie (four hours) is divided into three parts with an aged Wells telling of his past adventures. Because of the science and strangeness in the movie, this is definitely one to watch when full attention can be given to it.
At first glance, the numbers in the content category may seem high, but as the film is very lengthy, one is not bombarded by any means. There is definitely a British flare to the movie with some of the phrases and pub scenes, but this same flare adds to its quality. "The Infinite Worlds of H. G. Wells" is a captivating thinker which earns the Dove "Family-Approved" Seal.
Info
Company:
Echo Bridge Home Entertainment
Writer:
Chris Harrald and Clive Exton and Mark Skeet and Matthew Faulk
Producer:
Dyson Lovell and Nick Willing
Industry Rating:
Not Rated