White Fang Vol. 1
DVD Release:
December 7, 2004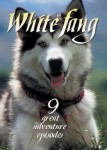 Synopsis
WHITE FANG the television series is an adaptation of Jack London's similarly titled novel, which has been heralded as one of the greatest adventure stories of all time. So well loved was the tale of a boy andhis loyal wolf-dog that the story spawned a feature film, an animated series, and the TV series that is featured here.
These are the exciting tales of a teenage boy, Matt Scott (Jaimz Woolvett), who is devoted to his loyal canine companion White Fang, and their breath-taking adventures they share in the untamed wilderness of the Rocky Mountains.
Episodes in this first volume are: 1. Coming Home (Pilot). 2. The Birthday. 3. Tough Kid. 4. Against the Current. 5. Last Flight. 6. The Enemy Within. 7. Heritage. 8. Wild and Free. 9. Clint Eastwood, You're Not.
Dove Review
"White Fang" is a series of nine shows. A family and a dog which is ½ wolf and husky, make a life together. This is volume one in the DVD series.
In "Coming Home": the family moves from city to country and befriend a dog. In "The Birthday": Matt's birthday becomes a day of eventful events. In "Tough Kid": Matt becomes a friend to a supposed bad boy and proves that the boy is a good kid. In "Against the Current": Matt is the new kid at school and has to prove himself to a bully. In " Last Flight": Matt and the dog become friends to an Englishman with a plane. In " Enemy within": Matt and the dog help the sheriff find out who is killing animals. In " Hostage": "White Fang" helps to prove a man is not a bad person. In" Wild and Free": Matt and the dog help a horse. In "Clint Eastwood You're not": the family is tempted to go back to city and a series of things help them decide.
This is a great series and we award it our Dove "Family-Approved" Seal.
Info
Company:
Echo Bridge Home Entertainment
Industry Rating:
Not Rated