White Fang Vol. 3
DVD Release:
December 7, 2004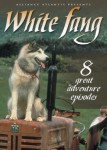 Synopsis
WHITE FANG the television series is an adaptation of Jack London's similarly titled novel, which has been heralded as one of the greatest adventure stories of all time. So well loved was the tale of a boy and his loyal wolf-dog that the story spawned a feature film, an animated series, and the TV series that is featured here.
These are the exciting tales of a teenage boy, Matt Scott (Jaimz Woolvett), who is devoted to his loyal canine companion White Fang, and their breath-taking adventures they share in the untamed wilderness of the Rocky Mountains.
The episodes in this volume are: 1. Out of Range. 2. The Mine. 3. Arrow River. 4. Poachers. 5. Fangs for the Memories. 6. Big Foot. 7. Fool's Gold. 8. Presents of Mind.
Dove Review
"White Fang Volume One" is a series of eight shows. A family and a dog (which is one half wolf and one half husky) make a life together. The shows are as follows: " Out of Range": Wild animals take over the ranch land. " The Mine": A boy helps a friend and has a rough day. " Arrow River": A ranch hand, Fang, and Matt go fishing. " Poachers"" The boy and mom help a fawn. " Fangs for the memories": This show remembers some of the animals who had been on the ranch. " Big Foot": People claim to have seen an unexplainable creature. " Fool's Gold": Dad and Fang find a treasure. " Presents of Mind: The boy (Matt) plans a surprise for his parents.
This series was awesome. The scenery was beautiful. It is a wholesome program and has been awarded the Dove "Family-Approved" Seal.
Info
Company:
Echo Bridge Home Entertainment