Loving Marley (Book)
Book Release:
April 1, 2008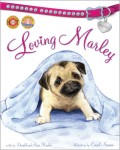 Synopsis
"Loving Marley " is the first in a groundbreaking new series of children's picture storybooks – PugTale Adventures – that will help parents and children understand how to prepare for the lifelong commitment that is needed to be a responsible pet owner.
"Loving Marley" focuses on humane education, character education, responsible pet ownership skills and family values and instills a good, solid, moral and humane value system. Development skills addressed are: compassion, empathy, fairness, honesty, integrity and responsibility. Humane educational values like teaching children about animal welfare, how to nurture a pet, empathize with a pet's feelings while giving and receiving unconditional love are also a focus of the PugTale Adventures.
Dove Review
This colorful illustrated storybook will educate families about the importance of making a good decision when getting a pet. When one becomes a new pet owner there are many things that need attention and "Loving Marley" is a creative way to help relay those details. A fantastic tale that will help prepare everyone regarding the responsibilities and changes that will happen when this new addition to the family comes into the house, we happily award our Dove "Family-Approved" Seal to this book. We award it five Doves, our highest rating.