Made of Honor
Theatrical Release:
May 2, 2008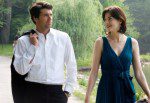 Synopsis
Made of Honor revolves around Tom and Claire, who have been platonic friends for 10 years. He's a serial dater, while she wants marriage but hasn't found Mr. Right. Just as Tom is starting to think that he is relationship material after all, Claire gets engaged. When she asks Tom to be her "maid" of honor, he reluctantly agrees just so he can attempt to stop the wedding and woo her.
Dove Review
"Made of Honor" is your typical story about a guy who is friends with a girl but is really in love with the girl and doesn't realize it until it's almost too late. He then tries to win her over and show her that he loves her. There are much better versions of this type of romantic comedy that have been made over the years. One that comes to mind is "Runaway Bride" starring Richard Gere and Julia Roberts. In addition, "Runaway Bride" received the Dove Seal and "Made of Honor" does not.
The most interesting aspect of this film is some of the Scottish traditions that they incorporate in the script. Of course you have the kilts, the log toss to win the lady, but you also have the rehearsal dinner where the groom has killed all that is being served in honor of his bride. Oh, did I forget the bag pipes? What Scottish tradition would be complete without those being played? The funniest part of the film wasn't the writing, but the slapstick comedy where Tom runs into a waiter carrying dishes twice in one night.
"Made of Honor" falls short of being considered a family film because of language, sexual encounter(s) of the lead character and the tremendous amount of dialog about sex and getting women into bed. While Tom prides himself on being overly honest with everyone, he is constantly jumping into bed with any female that turns his head. I would call that dishonorable behavior and not honorable like the title implies.
Info
Company:
Sony Pictures Home Entertainment
Writer:
Adam Sztykiel and Deborah Kaplan