Dragon Tales: Whenever Im Afraid
DVD Release:
May 24, 2004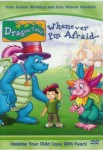 Synopsis
These Dragon Tales adventures feature dragons as playmates helping children learn important lessons in life. In "Whenever I'm Afraid…", children learn to accept and overcome their fears with such themes as trying something new and facing a bad experience.
Dove Review
Are your children afraid of animals, trying new things or making mistakes? If so, "Dragon Tales: Whenever I'm Afraid" would be a wonderful DVD for them to see. The episodes contained on this DVD focus on five fears that kids deal with such as stage fright and the fear of getting hurt. The fun, colorful stories show Max, Emmy and their dragon friends learning how to help each other overcome their fears. Another plus is the introduction to a few basic words in Spanish.
There is an aspect of whimsical magic as Dragon Land is a magical place and Max and Emmy must wish on a dragon scale to get there. While the catchy theme song may get stuck in your head, dragons will fly and fairies will flutter into your heart! A fantastic DVD, "Dragon Tales: Whenever I'm Afraid" easily earns the Dove "Family-Approved" Seal!