Dragon Tales: Say Hola to Enrique
DVD Release:
January 24, 2006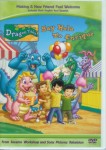 Synopsis
Teach your children positive lessons about emotions and behavior through the fun and friendly characters of Dragon Tales. In SAY HOLA TO ENRIQUE, children will learn how to positively interact with new friends and welcome then into their already established group of playmates.
Dove Review
"Dragon Tales: Say Hola to Enrique!" introduces a new friend to viewers and dragons alike. These episodes focus on Enrique and his move to a new country, culture and friends. Packed with Spanish words and phrases, this DVD would make it an excellent tool to use in a young classroom. One of the most valuable lessons that is taught is that there is no shame in crying…even for boys!
One thing that seemed to stand out was the fact that Enrique is sad, scared or depressed in four of the five episodes and the children and dragons spend a great deal of time trying to make him happy. This could teach the awesome traits of being a good friend and talking out your feelings, but the characters did take on the over sized task of being responsible for Enrique's happiness. It's food for thought if nothing else. "Dragon Tales: Say Hola to Enrique!" is a colorful, fun wholesome DVD that easily earns the Dove "Family-Approved" Seal!