Dragon Tales: Lets Start a Band
DVD Release:
April 1, 2003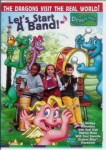 Synopsis
It's a great day in the neighborhood, but the kids need something to do. When Nina, their babysitter, suggests that they start a band, the kids don't know where to begin. But with a little help from Nina and her friends, they discover their feet, playing instruments and using their voices. When the Dragon Tales characters make a surprise visit to lend a hand, an afternoon of fun becomes a musical celebration!
Dove Review
Two phrases used in this DVD are "Music makes the world go round" and "Music brings people together". The producers of "Dragon Tales: Let's Start a Band!" believed those words as this DVD is packed from start to finish with music, rhythm, dancing, singing, humming, instruments and more! Real kids, led by their babysitter, learn first about making new friends and then about making music as they spend the day together. The DVD bounces between the real kids and many of the catchy songs featured in the "Dragon Tales" cartoon.
There is one song where the kids wiggle their bottoms a bit, but "Dragon Tales: Let's Start a Band!" is completely clean, wholesome, and just plain FUN! Dove happily awards "Dragon Tales: Let's Start a Band" the Dove "Family-Approved" Seal!