Dragon Tales: Lets Be Brave
DVD Release:
May 23, 2006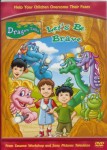 Synopsis
Every child had fears, especially when approaching something for the first time. Dragon Tales LET'S BE BRAVE teaches children about courage and overcoming those fears in a positive way. Whether it's being afraid of the dark, speaking in front of a crowd or going to the doctor, these engaging and playful episodes allow children to feel there is nothing to be afraid of, and that your friends will always be there to help you through your worst fears.
Dove Review
A fantastic compilation of episodes from the popular television show, "Dragon Tales: Let's Be Brave!" features ways to conquer fears that many kids have. Zak is afraid of the doctor, Cassie is nervous about spending the night, and Ord gets scared in the dark and during a thunderstorm. This group of friends help each other overcome their fears and they, in turn, are great examples for your children.
There is a bit of whimsical magic in each episode as Max and Emmy must wish on a dragon scale to get to and from Dragon Land, but it makes for a DVD filled with fantasy and harmless fun! With all its color, music, lessons and fun, "Dragon Tales: Let's Be Brave!" easily earns the Dove "Family-Approved" Seal!