Travel the Road: Season 1
DVD Release:
January 15, 2008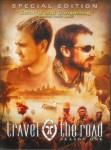 Synopsis
Travel the Road Season One is the series that started it all. Acclaimed as the new face of Christian Television this series grabbed the attention of CNN, Headline News, ABC News, Reuters, AP, NPR and Christian viewers everywhere as it boldly burst onto the scene.
The Story follows the lives of missionaries Tim Scott and Will Decker on their 18-month expedition through 25 countries. From the forbidding Himalayas of Tibet to the sweltering jungles of Cambodia, the missionaries captured every detail of their adventure. Travel the Road is an unscripted, inspiring journey that has motivated a generation to action and helped spur a modern day movement for overseas missions.
The complete set features 12 episodes on 4 DVD's featuring over 500 minutes of footage and hours of bonus material including: out takes, maps and country profiles.
This series is a perfect tool for: Youth Groups, Bible Studies, Church Events, aspiring missionaries and the armchair adventurer.
Dove Review
In this fast-paced series, two missionaries (Will Decker and Tim Scott) take you on a wild journey to many different countries. Travel from Papua, New Guinea, to Pakistan, to India and Ethiopia, to Thailand and many other stops along the way. Your emotions will go all over the place as you see them praising God then fighting the elements of nature. You will be with them as they go through trials of many different things just to do God's will. You'll get to see real life destinations, real people, places and things.
At the end of each episode you will have the option of viewing the "Country Profiles" These profiles tell you about the land, currency, travel, religion, and the call to missionaries. They are very informative and easy to understand. This series is a travel extravaganza. They do not show the good life of travel only but also the true difficulties of living in these countries.
I have to caution viewers that there are many borderline scenes highlighted that I feel should have been minimized such as the killing and butchering of animals, burning of human bodies that had diseases, indigenous nudity, and men without shirts on. Overall the message is sincere and you are able to see the life of a true missionary not just what we want to see. Overall. despite the borderline content, I believe the message of the series "How far would you go? How long would you stay? And how much would you give to win souls for God?" is the main focus. We therefore award our Dove "Family-Approved" Seal to this film.
Info
Industry Rating:
Not Rated
Reviewer:
Dana Langworthy