Travel the Road: Season 2
DVD Release:
January 15, 2008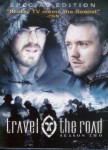 Synopsis
The award winning series that changed the face of Christian television returns with a bold new adventure in Travel the Road Season Two. The journey continues as missionaries Tim Scott and Will Decker return home to America. We now find them struggling to adjust to life in Los Angeles where everything seems so foreign. After surviving a near fatal car accident, without a scratch, these two daring missionaries say a painful goodbye to those they love and once again journey into the unknown. Armed only with a backpack, a change of clothes and their Bibles, Tim and Will depart for the most dangerous and remote lands on the planet. From the prehistoric jungles of Borneo to the snow covered mountains of Tibet and through the warzones of Afghanistan, the guys encounter Taliban gunfights, Siberian blizzards, bandits and sacrificial burials as they risk their lives to preach the gospel.
The complete journey encompasses 14-episodes on 3 DVDs, featuring over 500 minutes of footage and hours of bonus material including: out takes, maps, photo galleries and country profiles.
This series is a perfect tool for: Youth Groups, Bible Studies, Church Events, aspiring missionaries and the armchair adventurer.
Dove Review
This is the second season in a TV series where two missionaries (Will Decker and Tim Scott) will take you to places that you can only imagine being. You will travel with them from Los Angeles to Borneo, to Tibet and China, to The Gobi Desert, Siberia, Eastern Europe and Afghanistan. The heart of compassion they have for people melts your heart as you watch them preach to the indigenous people and give them basic items that we take for granted such as food and clothing. There is a large camel race involving many different countries with background music that will make you feel like you're actually in the race.
At the end of each episode you will have the option of viewing the "Country Profiles", deleted scenes and new to this season is a photo gallery. The country profiles are a little harder to read this season because of the background pictures and font size. They are still very informative. You will be able to read up on things such as the countries geography, people, economy, politics and religion.
"Caution" Parents will definitely have to review this series for themselves; prior to letting children watch it. Even for me it is disturbing to watch as an indigenous man and the missionaries kill, clean, and eat a monkey. Another situation involves pictures of holocaust victims which show them dead and naked. The final and most intense scene I have to caution you on is the way Tibet monks get rid of the dead. They actually cut them up and feed them to vultures. The episode that this is in has a warning before you proceed. We have to remember that our way of taking care of the dead and what we eat is many times very different than the rest of the world and that these missionaries are just opening our eyes to that. Overall the message of searching and suffering to win Non-Christian hedonistic people to Christ is not always comfortable but is the main focus of this film and we award our Dove "Family-Approved" Seal to this TV series.
Info
Industry Rating:
Not Rated
Reviewer:
Dana Langworthy