God Save Our Farm
Theatrical Release:
May 20, 2008
DVD Release:
April 1, 2014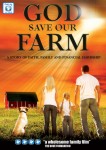 Synopsis
Awkward 13 year old David Byrd tries to save his family's farm from an unscrupulous land developer using the only thing he has – his voice – to make a CD and to win the heart of Kelly, the prettiest girl in school. Through many ups and downs he learns who he can trust and who he can't as he grows from a boy into a young man.
Dove Review
This is a wholesome family film, one that many will enjoy. David Byrd's father is on the brink of losing their family farm, and young David is teased a lot at school. When the school does an auction to "buy slaves" for a day to help raise money, David receives the lowest bid-one dollar! He likes a girl named Kelly who is drawn to him too, and soon he needs her help as he formulates a plan to make a CD to raise funds to help keep the family's farm.
We award our Dove "Family-Approved" to this film, and although the family in this film goes through a lot, the inspiring ending will make a lot of viewers happy. Although we approve this film for any age, young children probably won't enjoy it as much due to the mature themes.
Info
Reviewer:
Edwin L. Carpenter