What Happens in Vegas
Theatrical Release:
May 9, 2008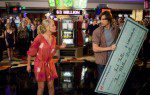 Synopsis
Set in Sin City, storyline revolves around two strangers who wake up to discover they got married sometime during the previous night's drunken festivities, with one of them winning a huge jackpot on the other's quarter. The couple set out to undermine each other and claim the coin, only to fall in love along the way.
Dove Review
There are not too many things more boring than a comedy that doesn't elicit laughs. This one drags for awhile before managing to be funny in spots somewhere along the final third of the movie. The premise is that a young couple meet in Las Vegas; she's looking for a good time after being dumped from her longtime boyfriend, and he's trying to forget that his boss (who also happens to be his father) just fired him.
Cameron Diaz makes the most of her role and manages to portray various emotions pretty well in this sluggish plot. Her character of Joy McNally marries Jack Fuller (Ashton Kutcher) following a brief romance of a few hours and several drinks. The next morning Jack uses Joy's quarter to play a one-armed bandit and he hits the jackpot. They had already agreed to separate but now the money changes everything as they disagree as to just who should get how much.
In court the judge forces them to stay together and to get marriage counseling for six months before he will even consider granting a divorce. The main plot dwells on their various attempts to sabotage each other's credibility, such as when Jack purposely tries to fool Joy into missing their counseling session.The one compliment I can give this film is that both characters grow in a good way by film's end. This film is loaded with strong language and sexual innuendos and is far from being a family-friendly film so we cannot award our Dove Seal to the movie.
Info
Company:
20th Century Fox
Reviewer:
Edwin L. Carpenter