Fireproof
Theatrical Release:
September 26, 2008
DVD Release:
January 27, 2009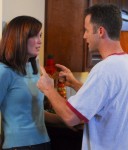 Synopsis
At work, inside burning buildings, Capt. Caleb Holt lives by the old firefighter's adage: Never leave your partner behind. At home, in the cooling embers of his marriage, he lives by his own rules.
After seven years of marriage, Caleb and Catherine Holt have drifted so far apart that Catherine wishes she had never married.
Neither one understands the pressures the other faces–as firefighter and she as the public relations director of a hospital. Regular arguments over jobs, finances, housework, and outside interests have readied them both to move on to something with more sparks.
As the couple prepares to enter divorce proceedings, Caleb's father challenges his son to commit to a 40-day experiment he calls "The Love Dare." Wondering if it's even worth the effort, Caleb agrees, but more for his father's sake than for his marriage. When Caleb discovers the book's daily challenges are tied into his parents' newfound faith, his already limited interest is further dampened.
While trying to stay true to his promise, Caleb becomes frustrated time and again. He finally asks his father, "How am I supposed to show love to somebody who constantly rejects me?"
When his father explains that this is the love God shows to us, Caleb makes a life-changing commitment to love God. And–with God's help–he begins to understand what it means to truly love his wife.
But is it too late to fireproof his marriage? His job is to rescue others. Now Caleb Holt is ready to face his toughest job ever–rescuing his wife's heart.
Dove Review
This is not only a well-made film which includes good acting, cinematography and editing, but its strikingly realistic approach to marriage difficulties incorporates true-to-life dialog. The film puts it all right out there. Some of the selfish behavior of the married couple is hung-up like dirty laundry for all to see.
Kirk Cameron has done his best acting yet as Capt. Caleb Holt, a firefighter who believes that his stressful life allows him to ignore his wife. Erin Bethea gives a stirring performance as Catherine Holt, Caleb's wife and a career-oriented PR director at the local hospital.
FIREPROOF does a very good job of balancing the weaknesses of both spouses and their lack of commitment to the marriage. Caleb is not into helping out around the house and ignores Catherine's priorities. Catherine resents Caleb's treatment of her and is suspicious of his motives. When Catherine tells Caleb she wants out of the marriage, he doesn't understand what he's done to make her want to end it. Caleb's father challenges him to express his love for his wife daily for forty days no matter how she reacts.
It is a wonderful movie with dashes of humor and plenty of drama including exciting rescue scenes. Due to a sophisticated theme, FIREPROOF is more for the over-age-12 set. We gladly award five Doves, our highest rating, to this picture. Every couple in America should see this film! It is a life-changing experience. Viewers will never be able to look at marriage in the same way again.
Info
Company:
Sony/Affirm Films
Writer:
Alex Kendrick and Stephen Kendrick
Producer:
Stephen Kendrick and David Nixon
Reviewer:
Edwin L. Carpenter