Hazel – The Complete First Season
DVD Release:
August 1, 2006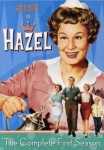 Synopsis
Everyone's favorite housekeeper comes to DVD! Oscar Winner Shirley Booth (1952, Best Actress, COME BACK LITTLE SHEBA) won two Emmy Awards for her portrayal of Hazel Burke in this beloved series based on cartoons in The Saturday Evening Post. She's more than just a live-in-maid and cook for the Baxter family. Hazel is the glue that holds their household together. Successful corporate lawyer George Baxter (Don DeFore, TV's "The Adventures of Ozzie and Harriet") may run a tight ship at the office, but at the end of the day, when he comes home to wife Dorothy (Whitney Blake) and son Harold (Bobby Buntrock), he enters Hazel's domain. She knows what needs doing and regularly speaks up with alarming candor, pre-empting George 's authority with liberal doses of common sense and wisdom.
Dove Review
Do you have a maid? You will wish you had one or at least one as motherly as Hazel (Shirley Booth). Hazel will melt your heart, make you laugh and put you in your place all within the same episode. When you need something done just leave it to Hazel and she will get it done. She seems to know everybody, can do just about anything and will make you laugh as she convinces George (Don DeFore) into doing what she thinks is best.
For me this was one of the best shows I have watched, clean and exciting with very little content to make note of. A few scenes of smoking, kissing, and fibs are the worst content. It is, overall, a wholesome show. This should be the standard for a TV series now. My family watched this with me and it was great to hear my seventeen-year-old son laugh and my twenty-year-old daughter feel the motherly wisdom of Hazel.
Even though the show was in black and white I didn't care. When was the last time you heard prayer in a TV series? How about standing up for what is right no matter the consequences? What about caring for somebody even though they did something you didn't agree with? All this is in here and a lot more! We are proud to not only award our Dove "Family-Approved" Seal, but also award it Five Doves, our highest rating! The only caution I would give is at the end of the Hazel series. In the previews for other TV shows you will see some inappropriate content.
Info
Company:
Sony Pictures Home Entertainment
Industry Rating:
Not Rated
Reviewer:
Dana Langworthy