Lil Aloha Babies – Waves n wonders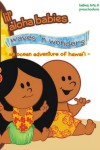 Synopsis
This is a virtually fun way of taking young children (ages 0 to 4) on an ocean adventure of Hawaii. By combining stunning underwater photography, playful animation, colorful graphics, fun and amusing toys, with contemporary music of the islands, the little ones will learn about Hawaii's beautiful ocean and magnificent marine life. Children will also be introduced to "ocean" learning words in both English and Hawaiian by a soothing voice over.
Dove Review
This is a wonderful video for the little ones. This DVD introduces children to sea life in and around the Hawaiian Islands. Interspersed with the actual animals, fish and other sea creatures are toys and the shapes of those same creatures. Each creature's name is spoken and spelled out in English and then in Hawaiian.
This is a great learning DVD with scenery that is beautiful, underwater panoramas that are breathtaking and it is all set to original Hawaiian music. We gladly award our Dove "Family-Approved" seal to this DVD.
Info
Company:
Local Girl Prod., Inc
Reviewer:
Debbie Berkenpas