Indiana Jones and the Kingdom of the Crystal Skull
Theatrical Release:
May 22, 2008
DVD Release:
October 14, 2008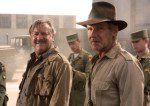 Synopsis
The newest Indiana Jones adventure begins in the desert Southwest in 1957–the height of the Cold War. Indy and his sidekick Mac (Ray Winstone) have barely escaped a close scrape with nefarious Soviet agents on a remote airfield.
Now, Professor Jones has returned home to Marshall College–only to find things have gone from bad to worse. His close friend and dean of the college (Jim Broadbent) explains that Indy's recent activities have made him the object of suspicion, and that the government has put pressure on the university to fire him. On his way out of town, Indiana meets rebellious Mutt (Shia LaBeouf), who carries both a grudge and a proposition for the adventurous archaeologist: if he'll help Mutt on a mission with deeply personal stakes, Indy could very well make one of the most spectacular archaelogical finds in history–the Crystal Skull of Akator, a legendary object of fascination, superstition and fear.
But as Indy and Mutt set out for the most remote corners of Peru–a land of ancient tombs, forgotten explorers and a rumored city of gold–they quickly realize they are not alone in their search. The Soviet agents are also hot on the trail of the Crystal Skull. Chief among them is icy cold, devastatingly beautiful Irina Spalko (Cate Blanchett), whose elite military unit is scouring the globe for the eerie Crystal Skull, which they believe can help the Soviets dominate the world…if they can unlock its secrets.
Dove Review
Indiana Jones is back! He is a bit older but he definitely hasn't slowed down. In this rollicking high-energy film which is backed by some great special effects, Dr. Jones takes on a young wise-cracking sidekick named Mutt Williams (Shia LaBeouf). They search for some answers regarding the mystical crystal skulls and their origin and powers. Eventually they cross the path of Marion Ravenwood (Karen Allen) and a few secrets are released from the family closet. Allen and Harrison Ford have a great on-screen chemistry.
The film is a bit intense from time to time, including scenes like the one in which some hungry flesh-eating ants go after a few humans for lunch. But there is nothing so graphic as to cross our level of acceptability. In fact, several families were at the screening I attended, and there was a lot of laughter and cheering from both young and old. There are some great comedic moments in the film, and as always the action. In one nice sequence which the audience loved, Indiana is on the back of Mutt's motorcycle, trying to escape the bad guys, and some of them are giving chase in a car, which he is pulled into. His determination in getting out and back onto the back of the motorcycle had the audience laughing and cheering at the same time.
This film is eligible to receive our Dove "Family-Approved" Seal for those over age 12. Unlike the other films in this series, there is no biblical profanity. A member of the audience I screened the film with yelled to his buddy who had his teenage daughter with him, "It's nice you can make it to a family film." However, we want to give a strong caution that there are some violent moments including a nuclear explosion and a woman's eyes glow as she is about to be consumed by an alien power. Parents should consult the content chart below.
Go hang out with Indiana Jones for a couple of hours. You know you want to.
Info
Writer:
David Koepp and George Lucas
Reviewer:
Edwin L. Carpenter