Eccentric Racing Network (Book)
Book Release:
May 1, 2008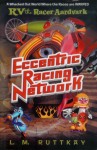 Synopsis
"RV the Racer Aardvark" is the first in the series of Eccentric Racing Network Stories. The Eccentric Racing Network Website Project is a unique addition to the world of on line education. The combination of imagination, adventure and shared family activity is complemented by the National Standards in Education. Artists, musicians, athletes and sponsors have been united to produce one of the most eclectic and counter culture style websites that has ever been available for kids. This combination creates an environment where learning is "caught" and motivation is inspired.
Dove Review
"Eccentric Racing Network" is an exciting book about RV the racing Aardvark. The story takes place somewhere in outer space. There lives creatures similar to that on earth but each with its own abilities. RV is an Aardvark who was born without legs so he rolls around on one wheel like a unicycle. It teaches wonderful lessons such as controlling your temper and being kind to others.
This is a great book to encourage children to use there imaginations and it's also entertaining enough for parents to read with their kids. Its purpose is to appeal to school-age children and encourage them to read. Dove easily and happily awards "Eccentric Racing Network" the Dove "Family-Approved" Seal"and we recommend it as a good read.
Info
Company:
Fishgate Media Inc.
Reviewer:
Stacey Langstraat