Impys Island
DVD Release:
June 10, 2008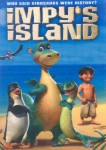 Synopsis
Titiwoo is a small volcanic island in the middle of the ocean. Here, self-styled Renaissance man, zoologist and maverick scientist Professor Horatio Tibberton lives and works. Along with the professor's adopted son, Tim, an illustrious bag of island creatures attend Tibberton's idiosyncratic language school: Ping the penguin, Monty the monitor lizard, Shoe the shebill and Solomon the sea elephant. The stress of Tibberton's household, school and the litte school community is the ldy-pig Peg. Life is happy and idyllic for everyone on the island.
On the iceberg a frozen prehistoric egg is washed ashore, and from the egg emerges a strange green creature: Impy, a dinosaur from the ice-age. From this moment on the islanders' peaceful life is over…..
Dove Review
"Impy's Island" offers a wonderful story of talking animals living on an island. They are young animals that attend a speech school taught by the professor. A dragon egg is found in an iceberg and this gives the island a lot of excitement. All the animals have wild imaginations and enjoy this new adventure with Impy. Some of the animals are hard to understand because of their speech problems. Dove easily and happily awards "Impy's Island" the Dove "Family-Approved" Seal.
Info
Company:
Image Entertainment
Starring:
Charlotte Mahoney
,
Michael Alston Baley
,
Maddy Blaustein
,
Mihael Sinterniklaas
,
Alan Smithee
,
Zoe Martin
,
Jimmi Zoppy
,
San Schemmel
,
Pet Bowlan
,
PJ Battisti Jr.
,
La Ortiz
Reviewer:
Stacey Langstraat