Buddys Bedtime (Illustrated)
Book Release:
June 1, 2008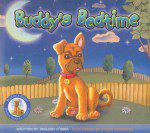 Synopsis
Get ready for bed with a lovable puppy. Turn bedtime into a pleasant experience with "Buddy's Bedtime, a richly illustrated story about a curly-tailed pup named Buddy. Engaging and easy to follow, "Buddy's Bedtime" encourages children to be active, finish their meals and brush their teeth – just like Buddy. Children will identify with the fun-loving dog as he goes about his bedtime routine, and parents will appreciate the lessons Buddy teaches about good behavior and a positive attitude.
Dove Review
You and your child will fall in love with Buddy the cute little pup in this delightful bedtime story. Children will enjoy the colorful illustrations, and can follow along with the big bold words and learn a few fantastic lessons about bedtime from Buddy. This book is a great addition to your young child's reading collection. We proudly award "Buddy's Bedtime" with the Dove "Family-Approved" Seal.
Info
Starring:
Illustrated by: Jason Dohanish