The Cinnamon Bear: In the Adventure of the Silver Star (Illustrated)
Book Release:
May 1, 2008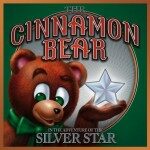 Synopsis
It all started with a 1937 radio serial, created by Glanville and Elizabeth Heish, the kind they don't make anymore. Funny, though, how this particular one has endured, for here we are 70 years later, with our tribute to "The Cinnamon Bear", a true classic that has a special place in the hearts of those who live in the Northwest, where perhaps it is best remembered. Now it has been our pleasure to translate audio into visual, via this children's book. Though this is a necessarily condensed adaption, we feel it captured the spirit and spark of the original series.
Dove Review
I have never had the privilege of hearing the original radio series on which this book is based. As I read this amazing book I could only imagine listening to The Cinnamon Bear's great adventures. This will be a fantastic addition to any family's Christmas story collection. This is one that the entire family will enjoy during the holiday season.
Info
Starring:
Illustrator: Jerrel McQueen