Bozra: A Shepherds Journey (Novel)
Book Release:
May 1, 2008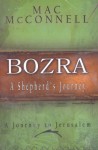 Synopsis
Shepherds are a bit of an outcast. Their company fits best, and is mostly, with other shepherds even two thousand years hence this simple journal. This only heightens my surprising journey and what I am about to tell you.
I lived at a time unlike but a few.
A time of prophets dreamed of.
A time immersed in danger and intrigue.
A Time of change.
A time that changed me.
And now it is time for you.
Would that I could reach out of these pages and touch you myself while whispering a blessing as you read. It will have to suffice that I have, to the best I know how. Believing we are connected across these times by the words – and hidden treasures – you now hold. –Bozra, son of Abraham
Dove Review
"Bozra: A Shepherd's Journey" is a well written story about a young shepherd boy from childhood to adult. The adventure is as if you are reading the diary of his life in the first person. He tells of his father and brothers as they teach him to be a sheep herder, their visit to Bethlehem to see the baby, and of the travels to far away places. This is the continuous story of Bozra's life, the events that happened during his life time and of the times that changed all of the world forever.
This book is awarded our Dove "Family-Approved" Seal. Due to some of the intense events it is recommended for 12+.
Info
Company:
Better Endings New Beginnings