The Story of David
DVD Release:
July 8, 2008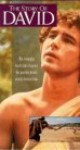 Synopsis
Fact-based story about the second and ideal king of Israel, David. In this movie, we follow David's story from the time he was a young shepherd to his death as king. Along the journey of his life we see his accomplishments, his struggles, and his sins. Also, how he repented and how his humility brought him to peace with his sins and his conscience.
Dove Review
This film stays pretty close to the biblical story of David. It includes the biggest moments from David's life including his harp playing which soothed King Saul, his victory as a shepherd against would-be predators, his defeat of the giant Goliath, his fleeing from King Saul who wished to kill him, his friendship with Jonathan, his ascendancy to the throne, and his affair with Bathsheba. It also features the rebellion of his son Absalom and his passing the kingly mantle down to his son Solomon.
There are a few mildly violent moments, but nothing over the top. This is one we suggest for ages twelve and above, due to a few mature themes, and we gladly award the film our Dove Seal.
Info
Company:
Sony Pictures Home Entertainment
Director:
David Lowell Rich and Alex Segal
Industry Rating:
Not Rated
Reviewer:
Edwin L. Carpenter