The Strangers
Theatrical Release:
May 30, 2008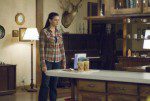 Synopsis
The horrifying events that took place in the Hoyt family's vacation home at 1801 Clark Road on February 11, 2005, are still not entirely known.
Champagne. Rose petals. Candlelight. It was supposed to be a night of celebration for Kristen McKay (Liv Tyler) and James Hoyt (Scott Speedman). But after leaving a friend's wedding reception and returning to the house, everything had collapsed for the happy couple.
Then came a 4 a.m. knock on the door and a haunting voice.
Is Tamara here?
Writer/director Bryan Bertino explores our most universal fears in The Strangers, a terrifying suspense thriller about a couple whose remote getaway becomes a place of terror when masked strangers invade. The confrontation forces Kristen and James to go far beyond what they thought themselves capable of if they hope to survive.
Dove Review
This film starts off as a bit of a dozer but once it kicks into gear the mystery of who the masked prowlers are, and Liv Tyler's effective acting, makes for a fairly good mystery. Tyler is quite good as young Kristen McKay, and she acts out cold, naked fear quite convincingly, with true-to-life facial expressions and quiet sobs and tears.
Unfortunately, the film crosses our level of acceptability as a family-friendly film with strong language, bloody violence, and a sex scene. Therefore, we cannot award our Dove "Family-Approved" Seal to this movie.
Info
Reviewer:
Edwin L. Carpenter