Emily Brontes Wuthering Heights
DVD Release:
February 12, 2003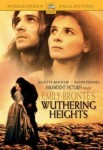 Synopsis
Peter Kosminksy directed this faithful adaptation of the Emily Bronte classic. Ralph Fiennes has the role of Heathcliff, a wanderer adopted by the father of Cathy (Juliette Binoche), "a wild slip of a girl." Heathcliffe is looked down upon by his stepbrothers and becomes a servant. He is further crushed when Cathy, the love of his life, marries another man — since to marry a servant would be the ultimate in humiliation for her. Heathcliffe disappears for a number a years but then returns, revenge and hatred for Cathy's family the only thing on his mind.
Dove Review
I do not understand what motivates the characters in this story. Everything they do makes them and those they care about utterly miserable. This version of "Emily Bronte's Wuthering Heights" is humorless, which may be what the director and the author intended. The story includes miserable people wallowing in their suffering. However, it is considered a classic and the melodrama does put an extreme spin on life's problems.
Although Dove is able to award the "Family Approved" Seal to this movie for ages 12 and older, I can't imagine any young people enjoying the slow-paced and completely depressing story. The two central characters don't seem to grow or learn from their mistakes one bit, and they both conduct themselves in a way that is manipulative and cruel to others. However, once again, we are able to award our Dove Seal to the film for ages twelve and above, realizing that some viewers will enjoy the soap opera angle to the film.
Info
Writer:
Emily Brontë and Anne Devlin
Reviewer:
Samantha Vadersloot