Dear J
DVD Release:
July 1, 2008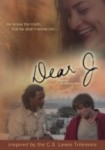 Synopsis
"Dear J" tells the story of a man named James Jamisin who must cope with the unexpected death of his agnostic girlfriend: Paige. His torment revolves around the existential questions of life-after-death and her ultimate eternal destiny.
To sort things out, James admits himself into Logous Psychiatric Institute, where he replays a make-believe Trial in his mind over and over again. The Trial is presided over by a no-nonsense imaginary Judge (played by Karen Lynn Gorney) and is animated by an array of off-the-wall characters. Some of the witnesses called to the stand are inspired by real-life individuals, like the literary scholar and apologist C.S. Lewis.
Dove Review
The director sets a mood in this film with flashbacks, the central character speaking to his dead fiancée who appears to be there to listen, vivid colors in some of the scenes, and so forth. The plot revolves around a minister named James who, after falling in love with an unbeliever, pressures her to make a decision for Christ. They have an argument and she dies in an automobile accident before they see each other again. An unopened letter, from the fiancée Paige, to James, with his initial on the envelope, might bring him peace of mind but he can't bring himself to open it and read it. With the help of a lady doctor, who becomes a good friend, he finds the strength to learn the truth of the letter.
There are some mature themes, such as grief and mental problems, in the film but the story deals poignantly with a belief in Christ and the hope beyond the grave. It's interesting to learn that James was born into a prominent atheist family and he loses his inheritance when he becomes a minister. We award this drama our Dove "Family-Approved" Seal.
Content Description
Language:
The Word "Hell" is used a couple of times as a location; "Oh Jesus" is used as a prayer; one character says he would rather be damned to Hell than to have James tell him what to do; one 'bloody" comment.
Info
Company:
Bridgestone Multimedia Group
Reviewer:
Edwin L. Carpenter