The Case for Faith
DVD Release:
September 2, 2008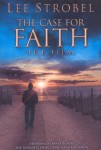 Synopsis
In this DVD, journalist Lee Strobel investigates 2 of the most emotional objections to Christianity. Barriers to faith confronted by believers and skeptics alike: Why is Jesus the only way to God? And how could a loving God exist if there is evil and suffering in the world? Extras include special features, resource collections, music, and a reference library.
In this video adaptation of his own award-winning book, journalist Lee Strobel critically examines the biggest and hardest questions continually pondered by both Christian and non-Christian society.
Dove Review
Lee Strobel draws the viewer into an interesting discussion about faith in Christ as the one true answer in the world of religions. Strobel examines the tough objections to Christianity, specifically the issues of Christians stating that Christ is the only way to heaven, and why there is evil and suffering in the world, if a loving God created it.
Interestingly, Charles Templeton, who used to preach with Billy Graham, shares how he once reached throngs of people with the gospel, but how he began to lose his faith as he asked himself the aforementioned questions about God and evil in the world.
John 14:9 is used in the program: "He who has seen me, has seen the Father." Strobel interviews various biblical professors and scholars and also Joni Eareckson-Tada, whose diving accident in 1967 left her paralyzed yet her faith in Christ over the years has remained intact. Indeed, it seems to have deepened more as the years have gone by. She shares the things she has learned and how she has learned to listen for God's voice during the still times.
As various people mention evil being a choice, not a thing, and share examples of how terrible situations had a silver lining, the viewer will be left to decide what he/she makes of the evidence. This is a compelling program and should be a fascinating watch for most people. Although we award our Dove "Family-Approved" Seal to this great program, we realize that young children might find it a bit deep to enjoy. For most, it will be thought-provoking, fascinating, and covers a most intriguing topic: Was Jesus Christ who he said he was?
Info
Reviewer:
Edwin L. Carpenter